Complete Repertory 2018
Posted on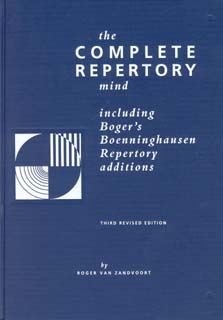 Complete Repertory 2018
This version includes more 20th/21st century work. Many additions have been incorporated espeically from Karl Stauffer's Symptomen-Verzeichnis 1929, since it contains relatively many additions from smaller remedies (Aqua marina, Calcarea caustica, Vipera beris, Mephites, Natrum nitricum, Picricum acidum etc.) From this source 106.081 additions were made.
New contemporary provings include: Morpho menelaus and Sequoiadendron by Hélene Renoux, Crataegus oxyacantha by M Stoschitzky, Acherontia atropos by Evelyn Feltes & O Neuhoefer, Agaricus phalloides by Peter König & D König, Betula alba by Jörg Wichmann, Helix costa by Todd Rowe & Desert Insitute, Astacus fluviatilis by D Drach & F Swoboda.
Handwritten Repertory Additions in Kent's Repertory by Roger Schmidt, Pierre Schmidt's brother, who worked in San Francisco, were added.
In this edition emphasis was given to some specific remedies: Falco peregrinus, Astacus and Mandragora, in that both provings and as much cases as could be found were incorporated. This practice will continue in the next incarnations of the Complete Repertory when this is consdiered worthwhile for some remedies.
From Hans Eberle & Friedrich Ritzer lots of clinical confirmations were added for Eagle, Electricitas, Uranium metallicum and Aqua Hochstein.

To add Complete Repertory 2018 into your Vision click here.

To upgrade an older version of Complete into the latest 2018 edition click here:
Please note: Complete 2018 is available Vision for Windows and Vision for Mac.

Chart to show you the extent of content of the Complete compared to other repertories including Synthesis: