Murphy's Repertory
Murphy's Repertory 3rd edition is renowned for ease of use and access to rubrics. This repertory can be purchased and incoporated into your Vision system.

Rubrics from Murphy can be used alongside rubrics from any other repertory in your analysis.
All chapters arranged alphabetically (unlike traditional Kentian structure)

Large chapters sub-divided into smaller chapters for ease of use

All rubrics within a chapter also arranged alphabetically

Many new remedies and new rubrics added

Widespread use of modern terminology in rubrics

Completely new chapters added :
-

Vaccinations – types and side effects




- Children including development and behavior




- Clinical chapter, including blood, diseases, tissue, nerves, emergencies, and pathology




- Constitution including professions, bodily build, complexion, temperament




- Cancer including chemotherapy, organs, and radiation disease




- Pregnancy including misbirth, fetus, birth, labor, childbed




- Poisoning including alcohol, chemicals, drugs, medications, and tobacco




- Time including seasons, periodicity, hours, times of day.
All data used in Vision is as provided by Robin Murphy, author.
Example screenshot of Murphy's Vaccinations chapter in Vision: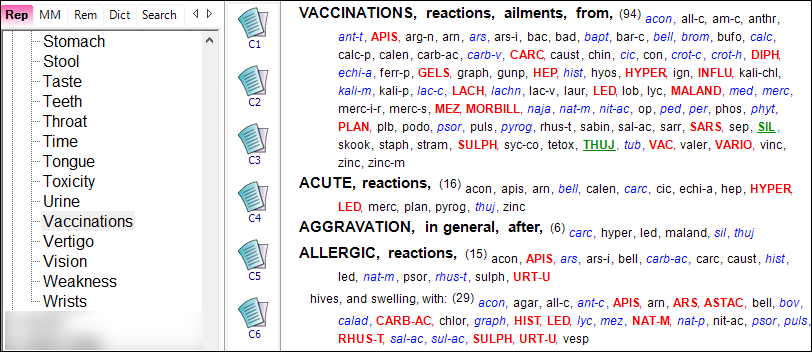 The author of this repertory is Robin Murphy ND: