Combined Repertory
This excellent work is provided as the standard repertory in every Vision system. It is an ideal repertory for those used to working with the Kentian schema of repertory.
The same chapters as used by Kent

Rubrics within each chapter are arranged alphabetically for ease of access

Some newer remedies have been added (where proven in the Hahnemannian way)

No attempt to add more references from other modern or classical sources

Focused, reliable results when repetorising
Other repertories often give very many equally indicated remedies when repertorising. The Combined Repertory contains only the most essential and most often used rubrics and remedies and often yields focused, well indicated remedies to remove confusion associated with seeing too many results.

Originally based on Kent's Final General Repertory, additions were made to the Combined using exactly the same sources as those contained in the Synthetic Repertory. Recognised additions for Carcinosin were also added, as well as those additions suggested by George Vithoulkas.
Provings from the Dynamis School are included - Hydrogen, Scorpion, Chocolate, Diamond, Neon, Iridium, Germanium, Brassica, Eagle. The provings of Limestone, Marble, Granite from Nuala Eusing and the Burren School are incorporated. The provings of Tungsten and Lac Humanum are also incorporated.
Newer remedy provings included are : Fire, Amber, Plutonium, AIDS, Coca-Cola, Falcon, Gila Monster, Polystyrene, Basil, Saguarra, Arizona Lava, Salix Fragilis, Stingray, Kauri Tree, Oak Gall, Positronium, Goat's Milk, Dolphin's Milk and Lion's Milk.
The Combined Repertory will continue to evolve with new provings and additional sources over the coming years.

Here is an example screenshot :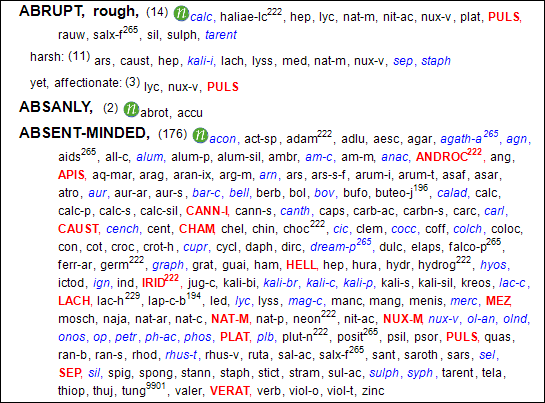 The author of the Combined Repertory is David Witko FSHom (UK)