Introducing Vision for Windows and Macs
Great value professional software for practitioners and students.
Save time when analysing your cases

Improve your results - be more versatile and accurate

Prescribe with greater confidence by deepening your knowledge of remedies

Never lose information on a patient again!
Why Choose Vision?
Vision offers tremendous value for money. Unlike other desktop software you can start at a low entry price and add resources in the future as and when you need them

There are no repeating monthly or annual fees. Lifetime licenses are provided for all software and books - even to substantive works such as Complete Repertory - once you have purchased they are yours forever.

Vision is loved for its ease of use and beautiful interface.

As Vision is used all over the world by thousands of students and practitioners you can be confident that everything a professional homeopath needs is included in Vision.
Backed by Miccant's excellent technical support and customer service!
Save time when analysing your cases
Vision's colourful and intuitive interface makes the things you will use every day simple to understand and incredibly easy to use.

All companies claim their software is easy to use. But from over 30 years helping homeopaths to use the Vision software and our previous software Cara, (especially those who convert over from other software) your ability to make effective use of homeopathic software is a very important point for you to consider.

Homeopathic software should have all the features you need but this is not helpful if you are always struggling to understand how to put them into practice!

Vision's intuitive interface will save your valuable time!

With many of the various software systems being very 'feature-rich' it can be confusing and frustrating not being able to do what you need to do…so here's the golden rule…."The features you use most often must be the easiest to access and only 1-click away." This means - no keyboard combinations you need to learn and press, no hunting through menus and sub-menus trying to find the feature you want to use, no scanning of zillions of impenetrable on-screen buttons. Vision provides 1-click access to the most common features.

Vision is not only the easiest to use homeopathic software but it is also visually beautiful – it is very pleasing on the eye and you can configure it with vibrant colours to your own preference.

Vision improves your results by enabling you to repertorise with a variety of repertories. Don't use just one! You need a variety of books for all the different types of cases you will see. Use modern repertories such as Complete and Murphy side by side with the essential classics such as Boeninnghausen and Boger.
When we first developed computer software, being able to repertorise just one way was a huge step forward from working with a book repertory and using (paper) repertory score sheets. Nowadays you really benefit from the ability to have many different options open to you.

Use Repertories Effectively
You need the appropriate repertory at hand
to analyse different types of case. Repertories you can use with Vision: Complete Repertory ~ Combined Repertory ~ Boericke ~ Phatak ~ Boger General Analysis ~ Boenninghausen ~ Clarke's Index ~ Murphy's Repertory ~ Meditative Repertory ~ Sherr's Repertory of Mental Qualities. Having access to multiple repertories is very important. Most importantly :
you must be able to search all
of these repertories at once
quickly and easily.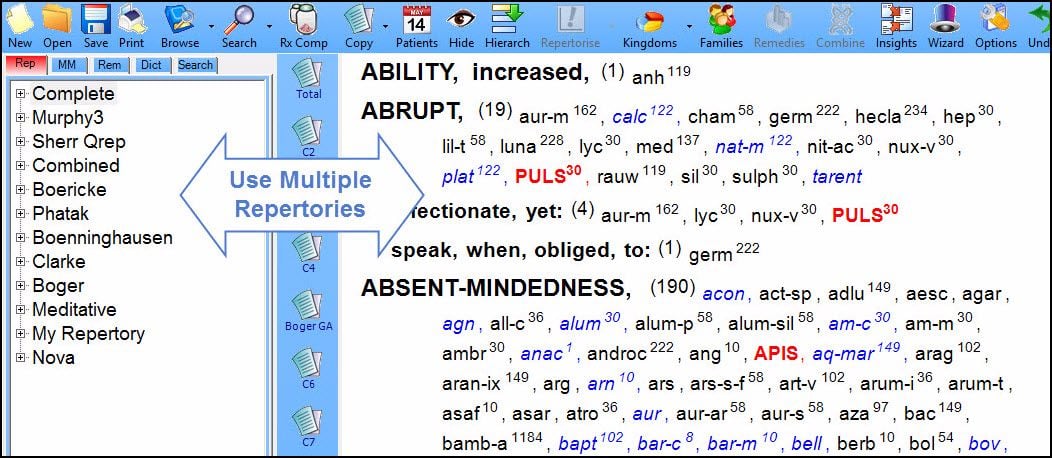 Search All Of The Repertories Easily
Most homeopaths cannot find what they are looking for in the repertory. Students new to the repertory are especially troubled by this.
Vision can search for words across all the repertories in a fast, easy to use way. Vision also provides a file of synonyms that helps you find similar or alternative rubrics across different repertories. The Complete Repertory even contains rubric cross-references that indicate alternative rubrics.


Apply different strategies when analysing cases to find indicated remedies.
A standard repertorisation will quickly show you the remedies that best cover the rubrics in your case. Vision provides you with more advanced and powerful features that help you really focus in on the remedy your patient needs.
Use multiple clipboards to analyse rubrics separately for maximum flexibility and improved clarity.
Utilise different analysis strategies, for example: Eliminating repertorisation, Incidence and Expert analyses.
Vision has an incredibly useful 'Filters' display that lets you apply deep analysis using such things as Generals, Families, Periodic Table, Miasm and Size of remedies. This really helps you narrow down the choice of remedies.

When you have narrowed down your choice of remedy you can quickly and easily read keynote information about any remedy and even read materia medica.
Prescribe With Greater Confidence
Deepen your knowledge of remedies and become more confident! Learn more about the remedies we use by browsing the remedy database, listening to audio lectures, viewing remedy photos, and by reading and then enhancing the remedy keynotes yourself!

Because we all learn in different ways Vision provides important remedy information in a variety of formats.

See : You need to visually see information about remedies to get connected to them - the more you know about remedies the better your homeopathic results will be. Beautiful colour photographs of many remedies are provided so you can get even closer to the source of our remedies.

Listen : Hundreds of audio lectures of remedies by leading homeopaths are provided.

Read : Keynotes and Relationship information is provided for remedies to aid in your decision making.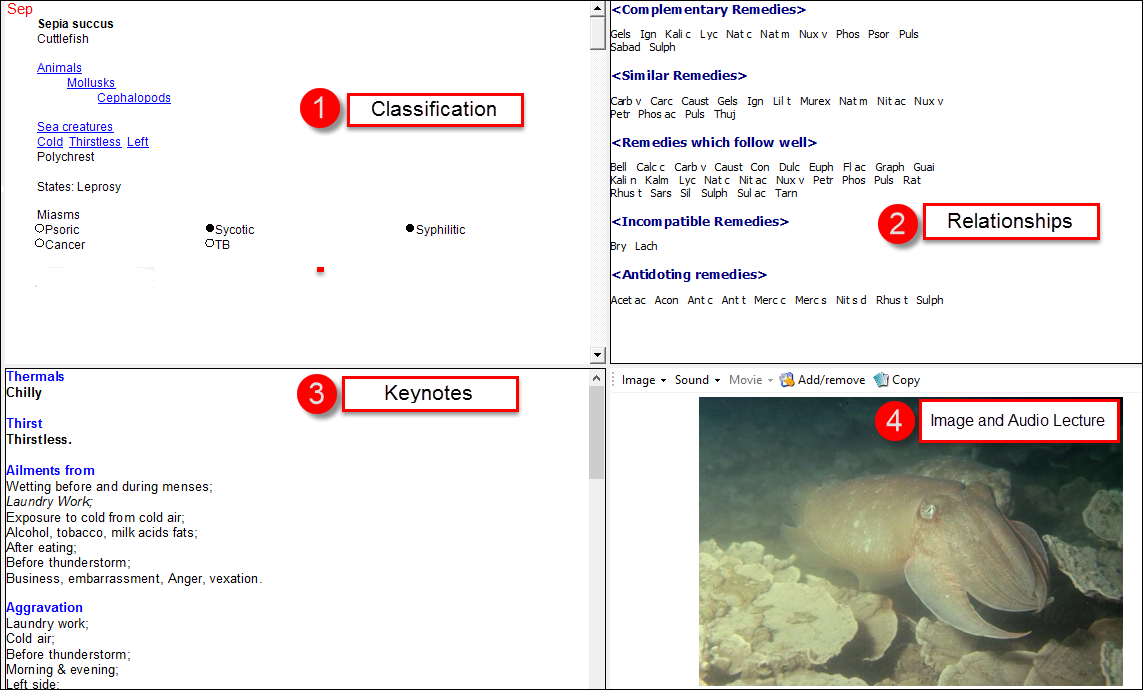 You can easily amend keynote or relationship information for any remedy just by typing. Why not add your own observations? Been to a seminar about a new proving? Simply add the information here for easy future access when you need it!
Easily Find The Information You Need. Add Your Own!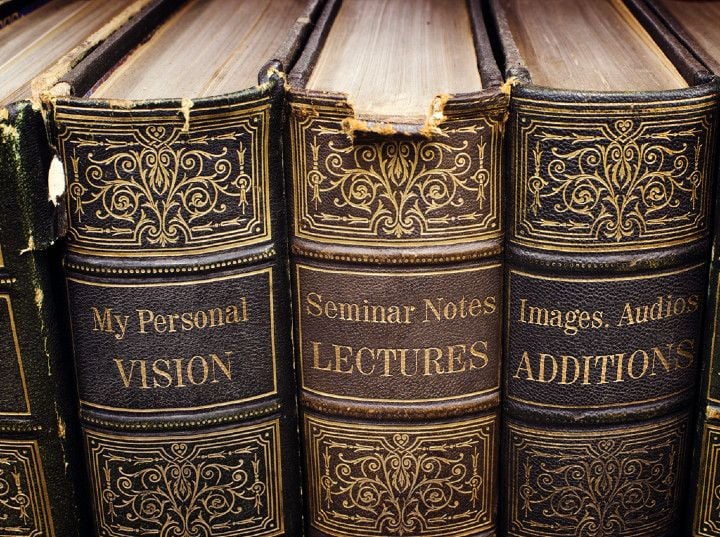 Save time by easily finding all of your valuable information. Build your own bespoke system using Vision's innovative and advanced features by adding in your own resources : Lecture notes, information from the web, not only text but photos, audios and videos and more.

Vision will become your personal and lifelong homeopathic resource. Experience shows that once you've chosen your software you will stay with it a long time. Fortunately, Vision is very flexible and enables you to work in your own unique way.
Homeopathy is a life-long learning process! You can record all the information you learn during your studies and practice inside Vision - and have instant access to that information at any time!
Build up your own collection of information
in the system - add notes you take at college or at seminars and lectures.
As your knowledge grows you can record own observations and findings about any remedy right into your Vision system. You can add images, audio recordings and even videos to supplement any remedy information already in Vision's database - and recall at any time in the future.

Here are a few really advanced features just waiting for you:
Add brand new remedies into Vision (useful if you have a special interest)
Edit the repertories already in your system by adding new rubrics or even add remedies to existing rubrics - the choice is yours and the possibilities endless!
Create your own repertory if you wish! Share information with other Vision users!

Add seminar or college notes and lectures right into the materia medica section - and when you word search Vision also looks inside your own notes.
Enhance the word searching in Vision by adding your own search terms and synonyms
Never Lose Patient Information
You can enter all your Patient details and each visit they make right into Vision.
Store each repertorisation against a visit so when the patient returns you can quickly see on screen what you repertorised last visit.
Record which remedies you gave and in which potency. No need for a separate patient management system – it is all built into Vision!
Vision lets you record all your patient details in a comprehensive, safe and secure environment.

You can search for patient data using any of:
Unique id number you assign to each patient
Last name
First name
Number (e.g. could be social security or insurance number)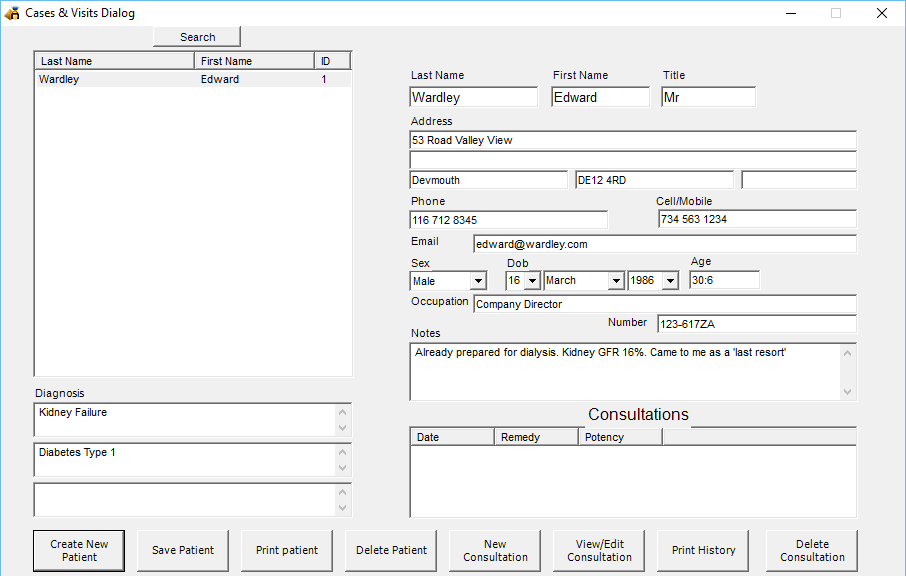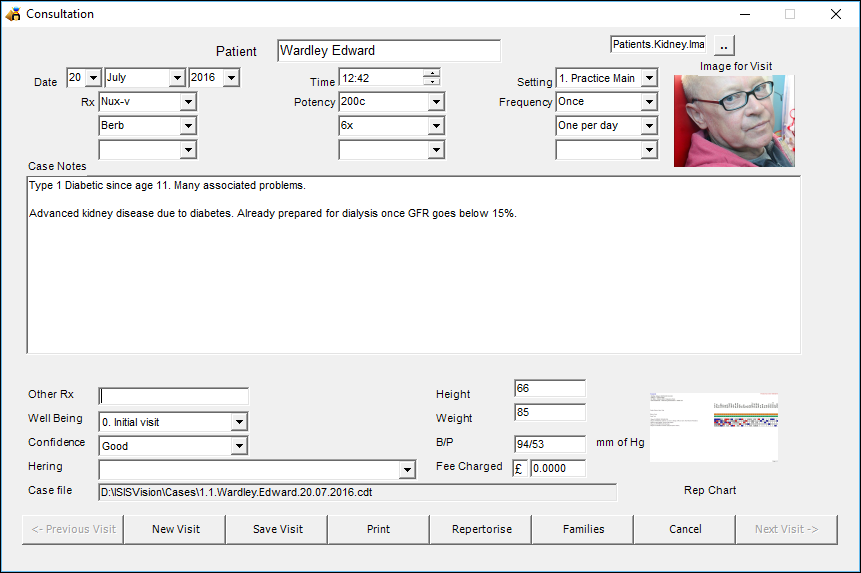 An unlimited number of visits/consultations can be added for any patient.

For each visit you can record the following items of information:

Setting and photo of the patient
Remedies and potencies prescribed
Text notes
Height/Weight/Blood Pressure
WellBeing/Outcome (for repeat visits)
Your confidence in the prescription
Repertorisation made for this visit including screenshot for quick access
Go beyond repertorisation and use the great learning tools inside Vision.
Comparative searches
Extract remedies from any repertory. Compare several remedies side by side. Learn the differences. Appreciate the similarities. Use to differentiate between 2 indicated remedies to make your final selection.
Families and Kingdoms
Beautiful full colour charts are everywhere in Vision! Use when selecting remedies to consider which families or best represented in a case.

Educate yourself about the common themes and aspects of various families from across the kingdoms.

Dictionary
Reference the Vision dictionary of terms should you encounter something unfamiliar in the repertory or materia medicas.

Check the original sources
When using the repertory, search the materia medica for any remedy in any rubric to see original sources or proving expressions.
Backup/Restore
Make sure your precious data is safe. Vision provides a comprehensive backup facility so you can take a secure copy of your data to external disk or the cloud. (and a complementary Restore facility that safely re-instates your data).

Access and search a large library of materia medica.
These will be of great use when deciding which remedy to prescribe in a case - you will find materia medica invaluable to check and validate your choice of remedy.

With Vision you could quickly read several materia medicas on screen for any remedy before you could even open any printed book!

Just imagine being able to reference the original proving of a remedy or read the wisdom of homeopathic masters when describing the key points of a remedy!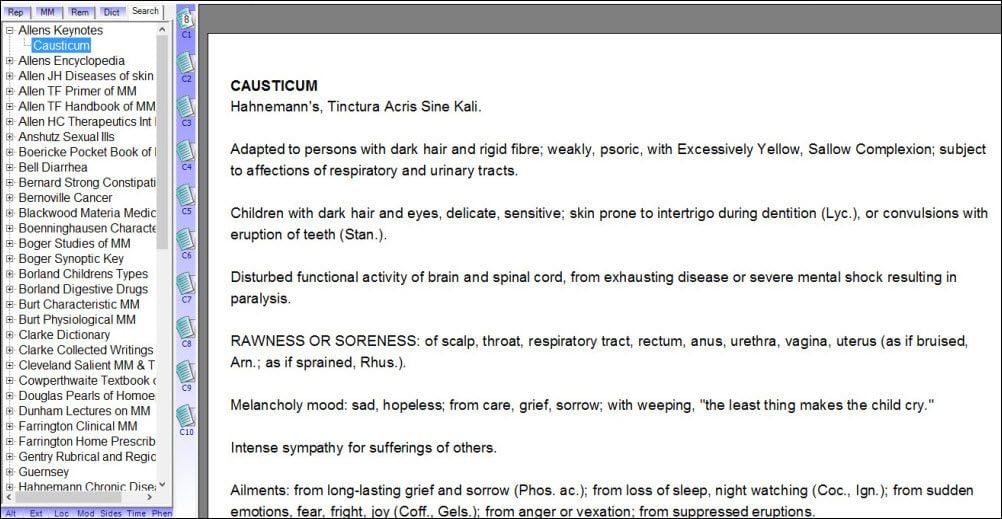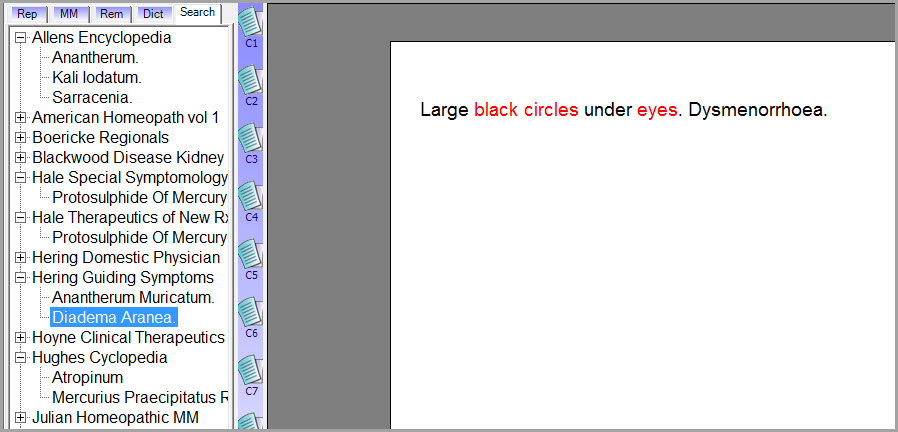 There are 4 main reasons why materia medica is important in any homeopathic software:

You can quickly look up any remedy in all the materia medicas. It is far cheaper to purchase in electronic form than in printed books.
You can search all the books for specific words and expressions.
You can even create a rubric out of your materia medica searches to enhance existing repertory rubrics.
Repertories do not contain all the information about remedies.

There are countless treasures of information in the materia medica not present in the repertory. Vision lets you search for specific words and expressions across all the materia medica in a few seconds. And you can even choose to view the results ordered by Book or even by Remedy.

Scroll down for Testimonials from real Vision users!
David Witko - The Creator of Vision
David began working in homeopathy in 1980 when he started his journey at the Royal London Homeopathic Hospital working with the homeopathic consultants there.

He trained and obtained his diploma in homeopathy in the early 1990's.

David created the world's first completely digitised Kent's Repertory. He also developed the first ever repertorisation software for desktop PC's, named Cara, which is still loved by homeopaths everywhere!
When it came time to replace Cara, David completely re-designed how homeopathic computer software should look and be used and the result was Vision. The software was originally named ISIS Vision to reference ISIS, the goddess of transformation, nature and health, but has recently been re-named (for obvious reasons).
David was appointed a Fellow of the UK Society of Homeopaths for his contribution to homeopathy.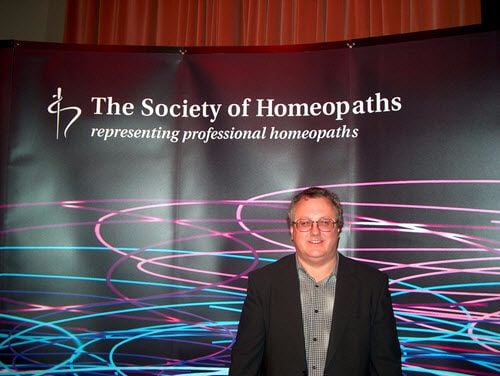 "I had mainly compared Vision to MacRepertory... The programmes differ somewhat in how you use them, and I found Vision more intuitive - for example, I did not really need any videos to figure out how to quickly repertorize symptoms, whereas with Macrepertory I did. I also prefer the UI of Vision. In the end, the differences were not major, but the decisive argument was the price. With Macrepertory, I could have purchased a student version but they have a time limit on how long you can use it, and the next version up (which was not limited) was quite expensive. Considering that right now I mainly need the repertorizing feature, Vision better suited my needs and I felt I get more for a better price." Olga (USA)

"I've been using Vision for eight years now and have found it very easy to get to know and use. Backup from Miccant and general technical support is very quick.." Elinor (UK)
"Overall the weekend went great...you would have especially appreciated when I taught the Lily family on Saturday. There were folks with Radar/Synthesis, folks with MacRep/Complete and me. We must have worked a dozen cases Sat & Sun, and no matter what the case was, I had rubrics in seconds, and the folks with MacRep & Radar took a minute or more to find the same rubric and STRUGGLED often to find it. You should have heard them by the end of the weekend! In addition, those with Synthesis, even with the newest edition, consistently had far fewer remedies in every rubric we used, and in 90% of the cases the curative remedy never even came close to being near the top of the repertorization (they were always in the top 5 in mine) - boy was that an eye opener for them! We had a long discussion about it, and they said they finally understood why I prefer Vision and the Complete Rep over the other programs and Synthesis. Kim (USA)
"No doubt it is a best software! I am satisfied with it and moreover we are updated every year" Majuhid (Pakistan)
"I have been using Isis Vision for the past 10 years. I must say this is the most beautiful and elegant software for homoeopaths. It is very easy to work and learn with Isis Vision." Gopu (India)
"Thank you so much for the software as well as for your help. I would like to congratulate your company for such a complete software. I personally feel the number of books which you have included in the software especially the materia medica books is great. We will be encouraging students in our seminars. We usually have seminars almost every month in various parts of India as well as abroad. Thanks again for your help and best wishes for the future. Dr. Sidhant Sehgal (India)
"Today I trained 55 undergraduates - BHMS - students of Govt Homoeopathic Medical College Calicut Kerala…they were really impressed by ISIS Vision" Dr Mansoor Ali (India)
"I am a third year (final year) student in Australia. I have David L as one of our clinic supervisors. He suggested taking a look at your software which I have now downloaded. It is a great package as I have looked at many different software packages, this one is the best presented package so far and (with) a lot better usability then Radar Opus. Rodney (Australia)
"I want to thank you all so much for your recent support. I am so satisfied with my system and with all the new purchases. I want to thank also the person who copied the proving of the Damselfly for me. You provide a fantastic service that is for sure. I never felt a nuisance at any stage even though I know I have limited computer skills and very slow internet in our area" Mary. (Ireland)
"I LOVE (Isis) Vision! I got it in school and have upgraded it twice, and it is spectacular. It has fantastic comparisons, great for analysing different remedies in the same family or group or even kingdom, it is REALLY easy to use, and it is relatively inexpensive. It runs Complete, Murphy. I also like the add on packs that you can get with Isis Vision as far as materia medica, and how you can search books, and each remedy is given a keynotes overview, picture and remedy relationship. The mm and rep are both in the same interface and well, it is pretty much awesome! You can enter in your notes from seminars and make them far more searchable as well... oh, and there are settings that you can customise as far as taking away weight from polychrests or really prioritising rare and peculiar symptoms or remedies when you repertorise as well. Oh and they have an acute program that you can get with it and A LOT of new PROVINGS!!! Joy (Canada)
"Brilliant... Once again thank you... Your response is so quick.." Fiona (UK)~
"Anyhow it is lovely to have someone like yourself who stayed with me until I was totally satisfied and that is ADMIRABLE. It is so easy to promote Miccant to other friends." Abbas (UK)
"I would just like to add that I am very impressed with the customer support you provide....I have only had a couple of issues with ISIS Vision since I purchased it but each time my problem has been completely resolved and very, very quickly, so thank you very much. This is a very important part of any software purchase for me and something that certainly encourages me to recommend ISIS Vision to other colleagues & to choose Miccant products again if I decide to upgrade my homeopathic programme." Jackie USA