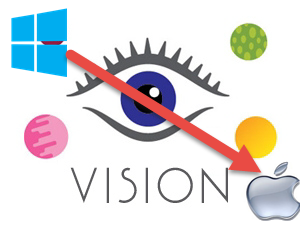 Upgrade ISIS v2 to Vision for Mac
Upgrade your ISIS v2 system to Vision for Mac
This product must be downloaded usng a link we will supply to you by email once you have purchased.
A Product key will also be supplied by email so that you can acitvate Vision for Mac via the internet. Regular internet access is required thereafter to ensure the validity of the Vision license.

Nothing is physically shipped with your purchase of this product.

Notes:

All books previously ordered with your ISIS v2 will carry forward into Vision except Repertorium Unversale which is now discontinued.

It is not possible to transfer any data backed up in ISIS v2 to Vision for Mac

It is a condition of purchasing this upgrade that you return your ISIS v2 hardware dongle within 14 days to :

Miccant Ltd, 14 Mulberry Close, West Bridgford, Nottongham. NG2 7SS.

If you do not return the dongle within this time frame this will indicate that you wish to retain the use of your ISIS v2 system and we will therefore bill you for an additional license.

(Code : UPGVISION09)