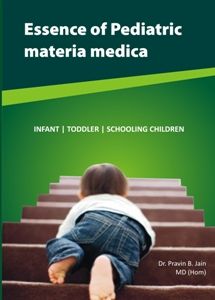 Jain's - Essence Of Pediatric Materia Medica
Essence Of Pediatric Materia Medica
Essence means: The most important ingredient; with indispensable properties: the crucial element.

This book "Essence" contains an extract that has the fundamental properties of materia medica in concentrated form.

Dr. Pravin Jain, author of best-selling book Essentials of Pediatrics, has gone a step further in describing pediatric material medica. He has for the first time, described the remedies according to different age groups – Infants, Toddlers and Preschoolers, so that it becomes easier to pinpoint the symptoms while you search for the similimum.
For the first time, any author has taken pains to clearly identify the thermals, thirst and sides of every remedy. This is a great USP of this book. Dr. Pravin has introduced new sections in the book like the Keywords – describing the remedies by a single word, Entry points – which are quick points making you think of a particular remedy and Rule out points – symptoms which helps you to rule out a remedy.
All these points and a unique layout make this book a must read for all those who want to master pediatric practice.
Notes
1. This book will be shipped worldwide from India
2. Price includes all shipping costs and sales taxes