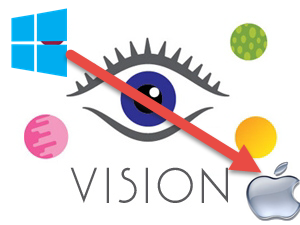 Convert Vision from Windows to Mac
Convert Vision for Windows to Mac
This product enables you to convert your Vision for Windows to Vision for Mac. Note : this product is only for the English language edition of Vision.
Vision for Mac requires a Product key that is activated via the internet. If you currently use a Product key then we will email you instructions on how to convert for use on your Mac. If you currently use a Hardware Dongle we will supply you with a new Product Key and you will be required to return the dongle to Miccant within 30 days. (if you do not return the dongle within 30 days we will assume you intend to keep 2 copies and you will be billed for an additional licence).

All books that you are using with Vision for Windows will automatically transfer to Vision for Mac - except as follows :
Repertorium Universale is discontinued and not available in Vision for Mac
Versions of the Complete Repertory that were released before 2012 i.e. Compete Repertory 2010 edition and earlier
The old Murphy's Repertroy edition 2. You can purchase edition 3 for use with MacVision.
An upgrade to the latest version of Complete is available at the bottom of this page - please only purchase this Complete Repertory upgrade if you have previously purchased a license for Complete Repertory in your Vision system - if you have not previously purchased any edition of Complete Repertory and wish to, please navigate to the Repertories category on our online shop to add Complete Repertory to your order.
On receipt of your order we will email you full instructions on converting to Vision for Mac and this will include a download link. At the bottom of this page you can purchase the installer on USB memory stick should you prefer to install in this way rather than by download.
MacOS versions : Only Sierra, High Sierra, Mojave and Catalina are currently supported by Vision for Mac - older versions of OSX cannot be used to run Vision for Mac. For additional clarity : this software does not run on iPads or iPhones (IOS) - only full Mac notebooks and desktops
You cannot return this product for refund once you have permanently activated your Product key.

(UPGMAC01)